spare parts
services
/
help & advice
/
PTFE Tape & Drive Belts
We provide PTFE tape and drive belts for all main manufactures and models of VFFS bagging machines.
PTFE Tape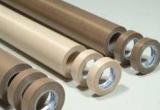 Our PTFE tape or (teflon tape) is extremely high quality and designed to last. Mainly used for heat protection and lubrication purposes on VFFS bagging machines, it's sticky back and ease of cutting makes it ideal to quickly remove and replace even on the most inaccessible areas.
It can be cut to your required width, available in different grades and sizes and is extremely affordable.
A versatile and extensive range of products, engineered to meet the most demanding applications at temperatures from -150c to + 260c.
In conveying through ovens and freezers, mesh belts for conveying textiles and other items through air and UV dryers, belts for packaging and sealing machines and shrink wrap tunnels.
Tapes and sheets in both plain and self adhesive from stock with Zone tapes made to order on a short 2/3 day lead time. Plain sheets for use in Textile printing for platen press covers some 'L' type sealers. Self adhesive tapes have many and varied uses including in the uPVC window industry for corner jointing, chute linings, VFFS sealing jaws and many applications where a low friction surface is required.
---- UK Manufactured ----
Order now and you won't be dissapointed.
Endless flat or mesh belts made to order for:
Screen Printing/Process drying
Food processing, curing, cooking and freezing belts
Band sealing/Rotary belt bag sealing
Fusing press/Apparel Manufacturing
Shrink wrapping - Mesh belt or Silicone flat belt
Belts can be produced with added reinforced edges, tracking studs, fasteners etc, some for certain machines available from stock for same day despatch - see our stock list below, which will change regularly to accommodate stock movements both in and out.
Most of these belts are made to order in house at our Driffield premises, very competitively and at a time span to suit most clients. Your enquiries as always will be very welcome.
Our in-house manufactured Laminated belts offer excellent UK quality material with fast delivery times and pricing second to none. We are happy to produce belts in any quantity and will treat each order with the same priority.
Drive Belts, Toothed Belts, Timing Belts, Vacuum Belts, Punched Belts and more for VFFS Bagging Machines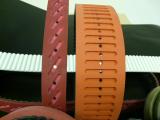 We can offer a range of quality standard rubber/polyester or PU/steel re-inforced or Kevlar toothed drive belts to match today's market place requirements. Stock of some items are held due to customer forward orders with other sizes being available with a maximum 10 day delivery.
Rather than list every manufactured belt size we have detailed the range of available belt teeth profiles which we can supply. At the bottom of the page are sizes we will have on the shelf for same day despatch. Other sizes are being added weekly, please ask for your requirement.
A wide range of special timing belts are now being supplied to various industries. As these ranges increase so does our stock levels and these will be updated on a weekly basis to the list below. Within the coming months these sizes will also become standard stock items and will be available to purchase from our on-line shop.
Belts are supplied to fit glass preparation machines like Lisec, Bystronic and Busetti.
Also for Vertical Form Fill Machines (VFFS), some are now in stock and listed in our 'Stock Belt' list below. Others for machines from Bosch, Hayssen, Ilapack, Isheda, Kliklok, Mesoma, Rovema and Sandiacre are slowly being added and will be on the list below for same day despatch very shortly. In the meantime please contact us for your requirement, if we don't currently have it in stock we will arrange production of a batch quantity, supply your requirement and add the remainder into our stock for future prompt delivery.
If you require any tape or belting, please fill in the enquiry form and we will get back to you asap with prices and availability.
---
To support the maintenance & service contracts we offer, we carry a large and varied quantity of spare parts for all our machines.
So if your require replacement part/s due to general wear and tear, as part of your routine machine maintenance, upgrades, or bespoke modifications, we can help!
We also offer a parts installation service, giving you piece of mind that all the parts have been correctly installed and tested by a qualified engineer prior to you resuming production.